My license came in the mail over the weekend

On the back, under number is "730E" . Is that my competition # for my car? I am in Div 7.
And where is a good place to get the sticky numbers/letters to put on the car?
I got the cage cert back in Jan 08, made my first 2 passes in March.
Didn't get back to the track till the 4th of July. In 100+ degree weather (DA4500+) did the other 4 passes.
Here is vid from July
http://www.youtube.com/watch?v=ISMBSgMaWEM
On both my full passes (9.86 & 9.79) went 1.38 in the 60'

The car was soft on MPH @ 133

it was when I got home and really looked hard at the data logs, saw the problem.
The ECU was pulling out timing

-5* at the hit, then every 2 seconds it took -5* more till almost half track.
In all the ECU took 20 degrees out, left me with 8.25* of ignition advance from the 1/8th on.
Didn't know an engine could even run with only 8* of timing. The fix was simple, just turn off the power adder enable switch that was on in error.
Here is the log showing only timing, TPS, and IAT. you can see the blue line drop everytime it pulls 5*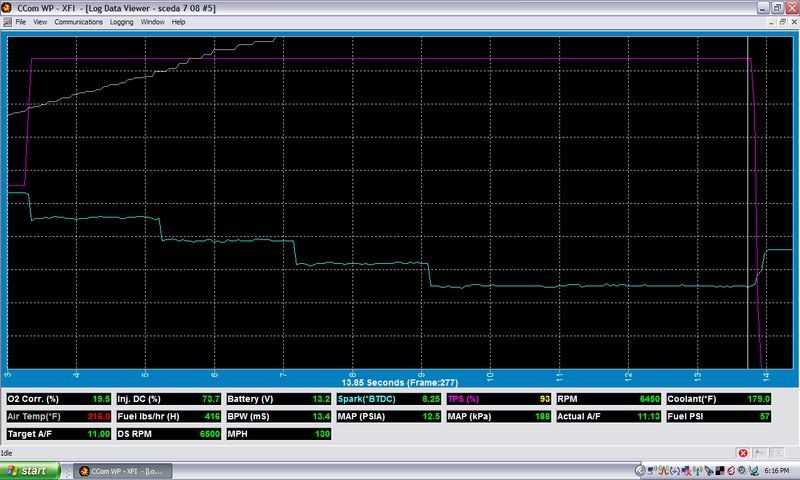 BTW I know those IAT's are out of control, over 200* at half track

. I'm adding an alky nozzle to the intake.
---Bill.