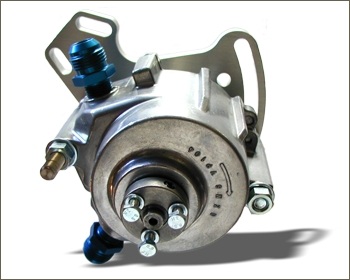 GZ Motorsports Releases New Super Pro Racing Vacuum Pump
GZ Motorsports has proudly released the newly redesigned Super Pro Vacuum Pump for 2010. The New Design Super Pro Racing Vacuum Pump is a purpose built pump specifically designed for the hot, wet and oily environment found in race car crankcase vapors.
An all new diecasting, only available from GZ Motorsports, forms the core of the new pump with much closer tolerences than previous models enhancing it's air flow potential. Closer tolerences in the new casting allow the Super Pro Pump to generate
22% more air flow
than similar sized competitors pumps! Updates also include improved and beefed up port locations and totally rebuildable bearing sections.
As with all GZ Vacuum Pumps, Rulon Wipers are still used exclusively as it's the best material to use for tough hot and oily applications available. In fact, this pump can suck in and spit out anything but metal without sticking! With GZ Motorsports Vacuum Pumps there is no need to spray brake cleaner into the pump between rounds to keep the internal vanes from sticking, a necessity with all other brands of pumps because they aren't designed to run in an oily atmosphere. Unlike others, GZ pumps use a time proven vane design that doesn't stick!
GZ Motorsports Racing Vacuum Pumps
gzms@gzmotorsports.com
22338 Shake Ridge Road
Volcano, CA 95689
(209) 296-3793