What's the Best Digital Video Camera for Motorsports?
What to look for in a Handheld Digital Video Camera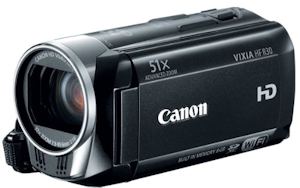 The camera we're currently using is the Canon Vixia HFR30 which sells for around $250 - $300 online. We've been using this camera for about 2 years now, and have been reasonably happy with it. Overall low light performance of Canon Vixia HFR30 is reasonable, but there are other models that are probably much better. Just like anything electronics related, new models come out often with much better capabilities and I'm sure by now there are many that are better than this one.
Here's video shot using this camera in low light conditions in 720p, video is much better during daylight or better track lighting. The next camera we buy will likely be something with higher resolution, and a higher than 60 Frames Per Second capability, but this one gets the job done.
Video Camera Options
When you're shopping for a video camera, there are certainly several things I'd recommend getting for filming your race car.
Records to SD Card - JUST SAY NO TO TAPE! You probably can't even buy a video camera that uses tape / Mini-DV format anymore, but you certainly don't want one for racing. The reason is getting the videos off the tape is a pain, where the ability to remove the SD Card from the camera and pop it into your laptop is very handy at the track. Also, SD Card cameras create a new video file everytime you start and stop the camera, making it very easy to find which run you want to view. If you're using tape now, give it away and get you a new SD Card based digital camera!
Avoid Non-Standard Cards - Most laptops have a card reader, make sure the camera you buy uses an SD Card compatible with your laptop!
Easy to connect to a computer using USB.
HD 1080P or better resolution.
At least 60 Frames Per Second at 720 like the Vixia HFR30, ideally the higher the Frames Per Second (FPS) and higher the resolution the better as long as it's in your budget.
Motion Stabilization.
Great low light capability - quite often we are racing at night, it's no use shooting something that we won't be able to see on playback.
Capable of mounting inside the car if you want to. Look for mounting options on the bottom of the camera.
Remote control (great for starting the camera in the car before staging and can't reach the camera).
The ability to shoot digital still shots so it can also use it as a camera in a pinch
Easy to use controls and menu system.
Handy to use for other things, like taking pictures of the family and friends.
In addition to the camera, while you're at it you'll probably want at least one extra battery, a USB or Firewire cable (better and faster transfer from the camera to your computer) and an extra SD Card.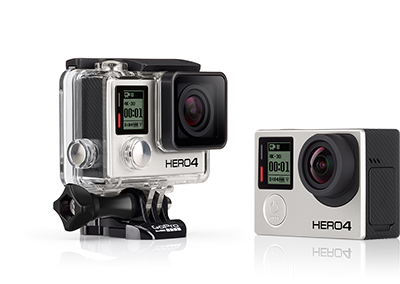 On Car Cameras
Unless you've been hiding on a deserted island the last few years, you're sure to recognize the leader in action Camera's, the GoPro is the most popular car mounted video camera in motorsports bar none.
These cameras are awesome for mounting anywhere on the car. You can mount them on your roll bar to capture what the driver's doing, underneath the car to watch the suspension, or on the body to capture the run going down track. They are certainly worth the money for your racing program!
The Video below was shot using an older GoPro on Todd Geisler's beautiful Malibu, watch the shocks extend, what the tire does, etc. These are very handy cameras to help diagnose what's going on with your setup. The new models like the Hero 4 Black have even higher resolution and frame rates.
Next Page - Video Software or previous page
Using Video to Help Diagnose your Launch