Drag Racing Weight Reduction Ideas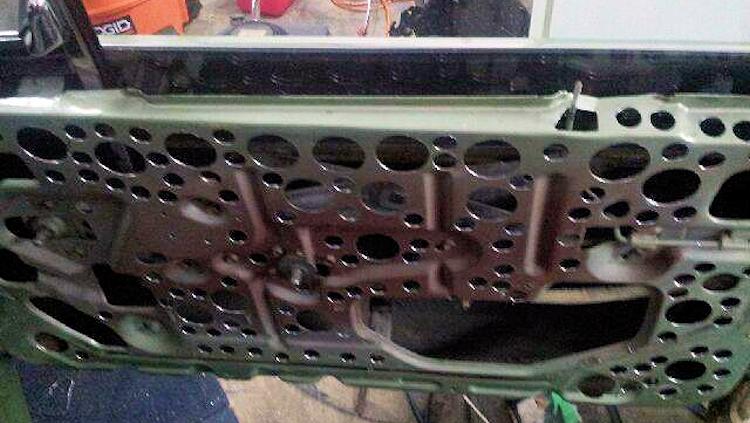 Image Credit Jeff Harper
"You haven't got serious about weight savings till you've pulled the rubber boots off your steering rack..."
Joey Martin, JMRC
Interior
Remove rear seat.
Lightweight racing seats.
Remove interior trim, carpet, upholstery and insulation. (Wal-Mart cheap carpet is the lightest carpet - aircraft carpet might also be useful).
Scrape & Remove Putty from floorboard joints. (Submitted by Charlie Daubitz)
Replace heavy inner door handle assembly with a cable pull. (Submitted by Dr. Alan Lott)
Remove locking mechanism completely if you can. (Submitted by Dr. Alan Lott)
Remove Sound Deadener and seam sealer from under carpet, trunk, rear hatch.
Remove Headliner, Sun Visors, Clips, Sail Panels.
Replace glass windows with Lexan.
Replace Old Glass with new replacement glass (lighter).
Remove the stereo, speakers and wires.
Remove the air conditioning, heater, defroster, ducts and controls.
Remove the windshield wipers, the washer system and mechanism.
Remove the ashtray and glovebox.
Remove spare tire and jack.
Remove window regulators
Remove door crash bars.
Remove dash cover.
Remove excess wiring
Remove OEM gauge cluster.
Gauges - Auto Meter "Ultra Lights" are good, but what is even better is they are self illuminating and require no wire for lighting, no connectors, bulbs or heavy switches or the weight you carry with these minor items. (Submitted by Wayne Carroll)
Light weight steering wheel (there are some very light ones used in circle track, all aluminum).
Use Chrome Moly for your Cage vs Mild Steel.
Use Velcro for mounting most of your electronics and light applications on carbon fiber brackets. It is easily removable, weighs nothing and does not require fasteners or metal brackets to save weight. (Submitted by Wayne H. Carroll, E.S)
Replace OEM steering column with racing type. Flaming River has some aluminum ones if you want to get fancy.
Switch to billet aluminum brake, clutch, etc pedals. not the boy racer billet "covers" but the pedals themselves - the entire pedal box assembly can be bought/made in billet. (Submitted by Dr. Alan Lott)
Use a shift light tach with digital read out instead of the big traditional tach and shift light combo.
Trunk
Use a smaller battery. The lightest lithium batteries for drag racing weight about 8 lbs, compared to 40+ for a traditional gel cell type battery.
Mount battery up front either inside car or engine compartment, this saves weight for battery cables. Traditionally done with the lightweight lithium batteries, but don't forget your rear mounted power shutoff system.
One battery instead of two (Submitted by Rob Cacioppo)
Remove trunk hinges and spring, use hood pins or Dzus fasteners. Another option is to use the little gas charged spring rods.
Fiberglass or Carbon Fiber trunk lid.
One big fuel pump to feed engine and nitrous instead of two systems (Submitted by Rob Cacioppo)
Cut trunk floor out and replace with aluminum or carbon fiber
Smaller and/or lighter fuel cell. Do you really need a 5 gallon or larger fuel cell? Can you get by with one or two gallons? How much do you actually use per pass?
To get every last ounce, you can trim the seal lip area away from the rear quarters and decklid. That isn't needed for a pin on trunk lid.
There's a reason back half cars are lighter, and part if that is because they rip all of the stock floor pan out from the seats to the rear bumper and replace it with light tin work or carbon fiber. Are there stock sections you can cut out and replace with CF or Aluminum?
Body
Fiberglass or carbon fiber body parts (bumpers, hood, doors, trunk lid).
Aluminum bumper brackets.
Use aluminum engine parts.
Use pins or quick release fasteners to retain the hood and trunk in place of heavy stock hinges and springs.
Circle Track Hood Pins are available in aluminum.
Even Stock Fiberglass hoods can be modified to save weight - "I used an angle grinder, Dremel tool and diegrinder and removed all of the substructure attached to the underlayment of the hood. The hood shakes a little at 90mph or better, but it filled up a trash bag full of fiberglass and metal that weighted 30lbs according to my scales" (Submitted by Crystal Douglas)
Eliminate power window motors.
Fiberglass bumpers.
Remove flip down license plate bracket or replace with aluminum bracket.
Aluminum or Titanium bolts and nuts for non-critical areas.
Carbon Fiber nuts are now being produced.
Media blast entire car down to "white" (bare metal) 100% of car - top to bottom. shoot with minimal primer (one coat of etch) and use only two or three coats of lacquer paint. with original paint, a car carries about 15+ pounds of paint/primer alone. the undercoating also weighs quite a lot. if the car has been repainted without stripping to bare metal - very, very rare - it is probably carrying an extra 12-15 pounds in paint. more repaints equal more weight. You will likely find that there is somewhere around 40 to 60 lbs or more of paint, seam sealer, bondo etc. on many cars like a Camaro. Have the floorboards, trunk pan, firewall done top and bottom done to get every last ounce.
Paint - Use water based paint. Jerry Sievers-Paint N- Place says he saves approximately 1/3 of weight on his funny cars painting for the pros (John Force, Del Worsham, etc.), by using water based paint and decals – lighter colors (white) without pigment are the lightest. (Submitted by Wayne H. Carroll, E.S)
panels can be lightened/thinned by using tip number two.(Submitted by Dr. Alan Lott)
Acid dip parts that are not critical for strength - dipping can functionally reduce 18 gauge metal down to 20 gauge or less. drill holes with a hole saw for even greater weight savings.(Submitted by Dr. Alan Lott)
Fabricate all non critical brackets/attachments out of aluminum. many of these are available pre made but it is amazing what you can make with some aluminum from your local home improvement store - with some heat, aluminum can be bent and is easy to work with otherwise. (Submitted by Dr. Alan Lott)
For all non critical fasteners a) if you can't afford titanium, gun drill all steel fasteners or replace fasteners with gun drilled aluminum b) drill all nuts through the flats - in other words, when you are through, each flat of the nut will have a hole - maximize the size - i think a 3/8 nut will take a 1/4 inch hole. you can also use a jam nut (thin) instead of regular nuts. aluminum jam nut ... very trick.(Submitted by Dr. Alan Lott)
Dzus Fasteners - Drill the middle of those as well. (Submitted by Wayne H. Carroll, E.S)
Replace grill assembly with aluminum mesh/hardware cloth. (Submitted by Dr. Alan Lott)
Have louvers punched in your rear valence or use a hole saw and drill some. saves weight and will release air trapped at speed - also looks cool if done right - even if you use the hole saw.(Submitted by Dr. Alan Lott)
Remove Bumper shocks and replace with tubing (Submitted by Charlie Daubitz)
On older cars there can be an amazing amount of rocks, dirt and other misc. crap built up inside rocker panels, behind the firewall in the trunk and behind the wheelwells. Difficult to remove, but you may find 2 lbs or more of dirt/rocks/who knows what in those locations.
Engine and Engine Compartment
Use an aluminum master cylinder.
Switch to manual brakes/Remove Vacuum Brake Booster.
Switch to manual steering box (aluminum Vega is lightest) or rack & pinion.
Use an aluminum radiator.
Use a smaller radiator. Antifreeze/water weigh about 8.5 pounds per gallon. (Submitted by Dr. Alan Lott)
Remove all unnecessary junk from under hood - windshield washer equipment, plastic shields, hood insulation, etc. remove plastic under-fender liners (Submitted by Dr. Alan Lott)
Get an aluminum or carbon fiber driveshaft.
Remove the front antisway bar.
Replace the glass headlights with plastic headlights (Round 7" style can be found on ebay, look for "tri bar headlights").
Replace control arms with tubular type.
Rack and Pinion Steering.
Remove Horn, Charcoal Canister.
Replace all brass or steel fuel/oil fittings and line with aluminum where possible.
Remove or use Fiberglass inner fenders.
Reproduction Radiator core support has thinner metal. (Some Malibu's came from the factory with aluminum core supports)
Tubular trans crossmember.
Headers – Stainless steel headers are expensive but very light, think about it. (Submitted by Wayne H. Carroll, E.S)
Aluminum Water Pump (Submitted by Tim Herron).
In Line Water Pump – Think about shifting this weight behind the cars center of gravity, it will save weight over the very front of the car having the water pump relocated and running long aluminum tubes and rubber connectors for water transfer to the radiator. Similar to plumbing for turbos or standard radiator locations. (Submitted by Wayne H. Carroll, E.S)
Aluminum oil pan, valve covers, air cleaner, etc. (Submitted by Dr. Alan Lott)
Mini-Starter (Submitted by Tim Herron).
Aluminum Balancer (Submitted by Tim Herron).
Drill lightening holes in non load bearing areas like radiator support
Use one 15lb Nitrous bottle vs two 10lb bottles.
Aluminum Heads / Block (Submitted by Rob Cacioppo)
Titanium / Aluminum Fasteners (Submitted by Rob Cacioppo)
Titanium Rods (Submitted by Charlie Daubitz)
Aviation Nuts / AN Washers and Bolts where allowed (Submitted by Rob Cacioppo)
Mill Block of unnecessary items such as fuel pump boss, side motor mounts, etc. (Submitted by Rob Cacioppo)
Use Fabric Braided line (push together) instead of Stainless Steel Braided (Submitted by Rob Cacioppo)
Alcohol– Run alcohol if you race brackets or high index cars and are prohibited from towing up to the staging lanes; then use a smaller radiator - the Scirocco with plastic tanks and water is less than 9 lbs. If you tow to the line in the low index or pro cars – lose the radiator completely, you could probably make it back to the pits under power without any water pump/radiator/pulleys/clamps/t/stat housing/t-stat/belts, etc. That is a lot of weight over the nose of the car that you could shed and really make a difference. If you can't make it back under power, tow it back to the pits. (Submitted by Wayne Carroll)
CSR" TRANSMISSION SHIELD I think the CSR Kevlar Trans shield is a big weight saver over the silly formed steel blast shield that we've used over the years. Extra weight from the nuts and bolts and the attached steel bracket running under your automatic transmission pan doesn't help either. It has to be worth more than 1 or 2 pounds, too bad it costs some "heavy ducats," otherwise I would dig down. (Submitted by Wayne Carroll)
Stamped or Fabricated Aluminum Transmission Pans are lighter than cast aluminum, and typically have more ground clearance which you'll appreciate if your car is prone to wheelstanding. (Submitted by Wayne Carroll/John Heard)
Powerglide's are approximately 25 lbs lighter than a TH400. (estimated difference)
Aluminum Flywheel (Submitted by Charlie Daubitz)
Use a 153 tooth Flexplate instead of a 168 tooth (Submitted by Scott Willis)
Chassis and Drivetrain
Don't paint the roll cage, instead wipe it down occasionally with Gun Oil like the Top Fuel cars do. Not only will you save some weight, you'll be able to spot and repair any cracks a lot easier.
Mono leaf springs are lighter than multi-leafs.
Bias-ply tires are lighter than radials.
Aluminum Rear Chunk vs Nodular Iron
Backcut Rear End Gears
Aluminum Brake Calipers.
Aluminum Disc brake hubs.
Aluminum Brake drums.
Aluminum wheels - some aluminum wheels are a lot heavier than others. Bogart and Weld Wheels are typically known as some of the lightest wheels available. The new Mickey Thompson rear wheels are supposed to be very light.
Valve Stems – Aluminum valve stems with caps, Speedway has them in their catalog for "roundy round" cars. Really cool! Get four of 'em for your light Bogart or Weld Wheels on Good Year Front Runners (no tubes) and your Rear Slicks (no tubes). Remember, any unsprung weight has a 1 to 8 factor to what you carry. One pound unsprung is equal to 8lbs of sprung weight. A 6 lb. tube times 2 or even 4 if you have them up front as well as at back, can equal a bunch using the 1 to 8 factor…it's an ugly number so go figure. (Submitted by Wayne Carroll)
Clean undercoating, dirt and grease from under car (you might be surprised what that weighs).
Gun Drilled Axles (Submitted by Tim Herron).
Aluminum Spool (Submitted by Tim Herron).
Lightweight Spool (profile milled)
Lightweight Ring Gear can save up to 6lbs over non-lightened (backside ground)
Wheel Studs don't have to stick out of the nut a mile, use the shortest necessary to fully engage the threads in the Wheel Nut
Titanium Drive Studs (Submitted by Tim Herron).
Titanium or Aluminum Lug Nuts - can save 4 oz off each wheel (Submitted by Greg Hazlett)
Gun Drill Cam Shaft (Submitted by Tim Herron).
Use .125" wall Chrome Moly axle tubes instead of Mild Steel.
Don't run tubes in your slicks.
Front Tires vary a lot on weight. Mickey Thompson 8-ply Sportsman tires weigh 19lbs each, a typical "Street Radial" tire is going to weigh a lot more. Phoenix 26" Front Tires are listed at 14lbs, Mickey Thompson ET Front and Moroso DS2 tires in 26" dia weigh about 12lbs ea. The Moroso Drag Specials and Hoosier 26" tires weighs 11lbs ea, the lightest 26" tire we've found are the Goodyear Eagle at 10.83 lbs for the same diameter. 26" Toyo front runner tires weigh in at 11.97lbs (measured).

Don't use bolts that are longer than needed. 1 thread above the nut is plenty.
Aluminum Gear Housing (9" Ford)
Use lightweight spindles, springs, and shocks in the front.
Use lightweight control arms. (Submitted by Dr. Alan Lott)
Remove the front sway bar assembly. (Submitted by Dr. Alan Lott)
Other
And last but certainly not least, consider putting your own body on a diet! It's amazing that Hot Rodders will spend untold dollars on light weight parts and looking for every ounce to remove from the race car while still packing around tons of fat on their own bodys.
Dump your extra change, keys, cell phone, pocket knife misc. stuff in your pockets.
Racing shoes are lighter.
Clean the tire rubber off the back of the car, inside wheelwells, etc. You might be surprised how much builds up along with small bits of rock. One of our forum members recently cleaned his car and got 6 lbs of rubber off it!
Pretty Girl – Find a petite "pretty" girl. She is 60% of your mass and can save 100 to 200 lbs in body weight. If you are a fat guy, tell her to drive your race car and pick up .2 tenths of a second. If she's ugly forget it…bad idea. (Submitted by Wayne H. Carroll, E.S)
Some Fast Facts...
Weight of 1 US Gallon of water = approx. 8.35 lb
Got some more ideas on weight reduction?
Send me an email I'll add yours to this list
Related: Drag Racing Weight Savings, Weight Removal